About /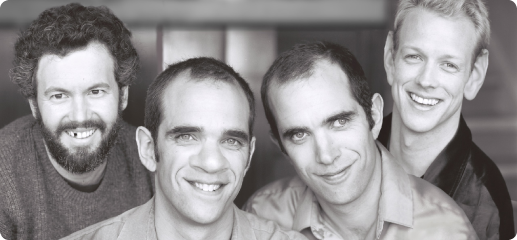 Kasper Hauser, a San Francisco-based comedy group, is (L to R) Dan Klein, James Reichmuth, (former member) John, and Rob Baedeker. They perform and produce live shows, digital content, and books. The group's work has been produced by the BBC, HBO digital and "This American Life."
Biographies /

Dan

Houston, we have a probletunity

Dan is a card-carrying magician and a career mindreader who directed "Rag Soup's Sunshine Boys" at the Bit 'n' Pendulum Playhouse near La Cienega.

James

Let your heart free

James holds the Guiness Book Record for throwing a checker the length of the Queen Mary. His hobbies are pigs and math and cats.

Rob

Jumping over the bar of success and then raising it behind you

Rob is the runner up of last year's HardeeBoyz WhoDunnit Peach Pit Blowout. He received a honorary degree in General Studies from Computer Institutes in Dong Ha.

The group members are all excellent jazz musician in their own right. Their solo and group album credits include:

Coming On Downtown to Midnight, The Sweexer Sessions, A Dollar Per Note Per Minute, Requiem for a Shit, Lost in the Miracle of the Many Mancesters, Where Do I Go After Here?, Sometimes Somewhere Somebody Gotta 27291199!, Milkman from Waaay Back (Way Downtown), Juice it JungleBender, Mental Kegels, 2 Nite Tuba Gonna B Mine, Bulletproof Unicorn (Live), Blues Train Backin' Up, PENAZ!, The Shandy Swill Lullabies, Verbeena, Nicky's Gotta Humpin' Eye, Victor & Victor & Victor, Sunday Thumpin' with Li'l Lizerd, Freedom Slide Whistle, The Load (remix), Pumpin' Up Gettin' Down, Chicken Soup for Getting Your Joint Slopped, Chanukah in CHonolulu, Meter Maids and Meter Misters, Dark Side of Darth Vader.